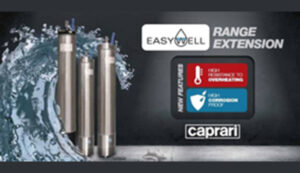 Important new developments for MPCs, available today in full stainless steel and ideal for high temperatures
CAPRARI further expands the range of EASYWELL submersible motors
Many configuration options and benefits for this series of submersible motors
From now on the EASYWELL range will be:
100% anti-corrosion: thanks to the full AISI 316 stainless steel option that makes MPCs resistant to corrosion, allowing them to be used in extreme applications.
When combined with DEFENDER® – Caprari International Patent, a standard device on all CAPRARI wet ends, this new option further extends the life of the electric pump, even in the presence of seawater.
Ideal for high temperatures: thanks to dual layer insulation windings, MPC submersible motors are suitable for hot water applications without any decrease in performance.
100% Reliable: Easywell has always guaranteed exceptional resistance to wear for the entire range thanks also to the silicon carbide mechanical seal, which allows it to be used in difficult operating conditions and with abrasive liquids. Furthermore, MPCs are equipped with a thrust bearing that is generously oversized compared to the axial loads generated by the wet end and with line bearings made of self-lubricating composite material based on graphite, guaranteeing overall durability.
EASYWELL also offers 125HP in size 8" and 200HP in size 10" for its cast iron basic version and for its new stainless steel version.
EASYWELL range: new power levels and greatly reduced energy consumption compared to the industry average, all at an absolutely competitive price.