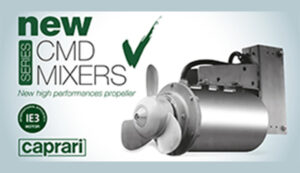 More robust and efficient thanks to a new mechanical and fluid dynamic design
We present the new CMD range of stainless steel direct drive submerged mixers. All models of this new series, 4 and 6 poles, are equipped with IE3 class high efficiency motors. Thanks to the new mechanical and fluid dynamic design, the mixers are particularly robust and efficient with high axial thrust. The new range also includes a power extension thanks to the new 4kW model.
The CMD range offers an array of benefits:
Top performance thanks to IE3 efficiency class motors and a new propeller design.
Superior strength of the components made of AISI316 stainless steel castings.
High corrosion resistance thanks to noble materials and technology.
Maximum reliability thanks to the conductivity probe for detecting the presence of liquid infiltration in the oil chamber to protect the electrical part.
Excellent thermal protection to protect the motor: the temperature probes in the winding are standard on all models.
High-performance hydraulic design: Next-generation design using CFD software to optimise both performance and axial thrust values.
CAPRARI, a leader in wastewater solutions, offers a full range of energy-saving products that guarantee total operational reliability.