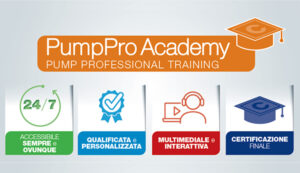 In an effort to increase and standardise product knowledge and maintainability, Caprari has started up a new customised training programme called "PumpPro Academy" developed both for internal staff and the Distribution and Assistance Network.
Caprari PumpPro Academy represents a digital leap in professional training that relies on a new interactive platform designed for simple and intuitive use.
The tool delivers online courses and enables users to achieve standardised and uniform training levels, with the possibility to follow individual and specific training paths focused on the product.
Navigation of the platform will be permitted to a selected number of users thanks to the support of an international software allowing access to a dedicated portal.
The new training programme, created entirely in-house at Caprari and in continuous development, is based on multimedia modules stressing both theory and practice. To complete the modules users must pass intermediate checks and final tests, necessary for monitoring, evaluating and guaranteeing the user's level of learning.
After passing each training module, an internationally recognised certificate will be issued.
The new platform will make it possible to train any user globally, and thereby minimise investments in training by our customers while allowing users to take courses when convenient without interfering with their work activities.
Your Area Manager is available to assist you in evaluating all training opportunities.